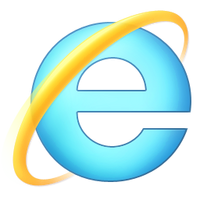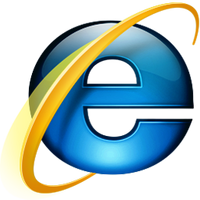 Internet Explorer (sometimes shortened to IE) is a web browser created and maintained by Microsoft. It first launched in 1995 and is the only main contender in both Browser War I and Browser War II . The current version is Internet Explorer 9. It is the most used web browser of any, allowing IE to win the original war, and to lead the second. Internet Explorer's advantage is due to all Microsoft Windows computers come with Internet Explorer by default, and all the others have to be downloaded off the Internet (using Internet Explorer).
1995-2000
Edit
TBA
Internet Explorer 5
Edit
TBA
2001-2006
Edit
Internet Explorer 6
Edit
TBA
Internet Explorer 7
Edit
TBA
2007-2011
Edit
Internet Explorer 8
Edit
TBA
Internet Explorer 9
Edit
IE9 was released in March 14, 2011.
Exclusion of XP From IE9
Edit
When Internet Explorer 9 was announced, it was also announced that it would not be released on Windows XP. This will bring Internet Explorer down in the standings, as nearly half of all computers use Windows XP. The same thing occured with Chrome 10, but the recent Firefox 4 does come with XP support, so they probably will move up in the standings.
Internet Explorer 10?
Edit
On April 12, 2011, Microsoft launched a "IE10 Platform Preview", signing that IE10 will be launched within the next few years.
Acid Tests
Edit
Internet Explorer passed the Acid and Acid2 tests, and recieved 100/100 on the Acid3 test.